This article belongs to VeggieFan2000. Please ask him/her/them before editing the article. If you do so without asking, or if the owner(s) say(s) no, you will get a warning. If you continue, you will be blocked.
Bellybutton
is an addition to the Sing-Alongs DVD series. It is released the same time as The Great I Am.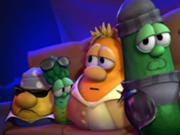 Bellybutton (from The Ballad of Little Joe)
Love My Lips (from Dave and the Giant Pickle)
The Selfish Song (from King George and the Ducky)
The Rumor Weed Song (from Larry-Boy and the Rumor Weed)
Second Chances (from Jonah A VeggieTales Movie)
Rock on LarryBoy (from LarryBoy and the Bad Apple)
Schoolhouse Polka (from Sumo of the Opera)
A Mess Down in Egypt (from Moe and the Big Exit)
Lance the Turtle (from Gideon: Tuba Warrior)
Share of Friends (from Lyle the Kindly Viking)
The Battle is Not Ours (Bonus song, from Esther the Girl Who Became Queen)
Chapter Select Music
Edit
The instrumental for Chapters 1-4 is Belly Button
The instrumental for Chapters 5-8 is Billy Joe McGuffrey
The instrumental for Chapters 9-10 is Love My Lips
Features
Edit
Previews
Edit
Moe and the Big Exit
Gideon: Tuba Warrior
LarryBoy and the Bad Apple
God Made You Special
The Pirates Who Don't Do Anything
Veggie Library
Fun Facts
Edit
Love My Lips is repeated from Sing-Alongs: Do the Moo Shoo.
Instrumental bits from His Cheeseburger Song of the Cebu Happy Ki-Yi Birthday, Modern Major General and Gated Community
Community content is available under
CC-BY-SA
unless otherwise noted.