This article belongs to VeggieFan2000. Please ask him/her/them before editing the article. If you do so without asking, or if the owner(s) say(s) no, you will get a warning. If you continue, you will be blocked.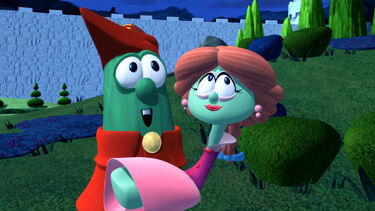 Beautiful You
is a sing-along DVD, and an addition to the Sing-Alongs DVD collection, following
I'm Too Young to Die!
and
Lance the Turtle
. It is released the same time as
Pompous's Song
. This is the first sing-along DVD to have sixteen songs instead of either ten, eleven or twelve.
"Beautiful You" from "David and the Lion's Den"
"I Must Have It" from "King George and the Ducky"
"Haman's Song" from "Esther... The Girl Who Became Queen"
"Can't Believe It's Christmas" from "The Toy That Saved Christmas"
"Do the Moo Shoo" from "The Ultimate Silly Song Countdown"
"Bubble Rap" from "Robin Good and His Not So Merry Men"
"The Forgiveness Song" from "God Wants Me to Forgive Them?!?"
"La, La, La, La" from "Beauty and the Beet"
"No Defense!" from "Merry Larry and the Unexpected Twist of the Spring Valley Mall!"
"That's Not Everything" from "Princess and the Popstar"
"The Thankfulness Song Medley" from "Madame Blueberry"
"I Wonder" from "Veggies in Space: The Fennel Frontier"
"The Star Theives's Song" from "The Star of Christmas and Hanukkah Doesn't Get a Star"
"Pool Party Fun" from "Family Road Trip"
"How to Draw Me" from "Bob and Larry's How to Draw!"
"Together" from "Celery Night Fever"
Chapter Selections
Edit
The instrumental for Chapters 1-4 is Can't Believe It's Christmas
The instrumental for Chapters 5-8 is La, La, La, La
The instrumental for Chapters 9-12 is That's Not Everything
The instrumental for Chapters 13-16 is Together
Song Preview
Edit
The transition that is in between songs is a bit from Jonah Was a Prophet.
Community content is available under
CC-BY-SA
unless otherwise noted.