This article belongs to Phineasnferb. Please ask him/her/them before editing the article. If you do so without asking, or if the owner(s) say(s) no, you will get a warning. If you continue, you will be blocked.

(September 9, 2019)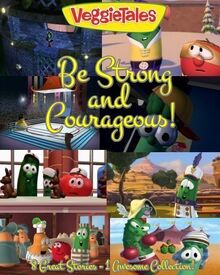 Be Strong and Courageous! is an 8-story collection featuring VeggieTales episodes dealing with courage and being strong in tough situations.
Stories Included
Edit
Silly Songs Included
Edit
Tell Me Why
Lost Puppies
Haman's Song
The Battle Is Not Ours
Best Friends Forever
Freeze, Freeze, Freeze
Trust In God
Larry's High Silk Hat
Wrestlers of Japan
A Joking Sumo I
He's Accepted the Challenge
A Sumo Can't Go Wrong
The Feeling of Finishing
Emerald Hunters
God Is Bigger
Hopperana
Good Morning George
Think Of Me
The Bunny Song
Stand!
The Pirates Who Don't Do Anything
The Great I Am
Larry's Blues
Happy Ki-Yi Birthday
Dream of a Dozen Cactus
Oh Little Joe
Mayor's Dream
Armored Up
Big Things Too
Pants
Community content is available under
CC-BY-SA
unless otherwise noted.