This article belongs to VeggieFan2000. Please ask him/her/them before editing the article. If you do so without asking, or if the owner(s) say(s) no, you will get a warning. If you continue, you will be blocked.
Basketball
 is a sing-along DVD that follows both 
Rock Monster
and
Haggis and Angus
. It is released the same time as
My Grown-Up Elf
.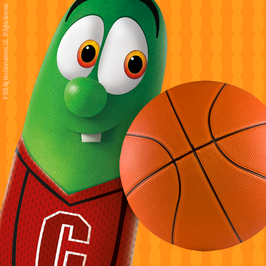 "Basketball" from "Gold Chips"
"My Favorite Things to Do" from "The Son of Music"
"You're Not Selfish as a Grab-it" from "Princess Claire & The Puppy"
"Light of Christmas" from "Merry Larry and the True Light of Christmas"
"I Couldn't Sail No Longer" from "Toy Story"
"Kilts and Stilts" from "MacLarry and the Stinky Cheese Battle"
"How I Love the Shopping" from "A Chipmunk Christmas"
"The Missing Dog" from "Minnesota Cuke and the Kingdom of the Missing Puppy Doggy"
"Happy Birthday VeggieTales!" from "VeggieTales Birthday Clip-O-Rama!"
"Lend a Little Hand" from "The Little House that Stood"
Chapter Selections
Edit
The instrumental for Chapters 1-4 is You're Not Selfish as a Grab-it
The instrumental for Chapters 5-8 is I Couldn't Sail No Longer
The instrumental for Chapters 9-10 is Happy Birthday VeggieTales!
Song Preview
Edit
The transition that plays in between songs is a bit from The League of Incredible Vegetables.
Community content is available under
CC-BY-SA
unless otherwise noted.