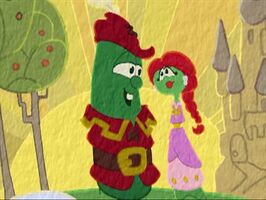 Ballad of the Pie War
is a sing-along DVD, and an addition to the Sing-Alongs DVD collection, following
I'm Boo
and
When I Think of Easter
. It was released the same time as
Busy, Busy
.
"Ballad of the Pie War" from "Duke and the Great Pie War"
"The Hairbrush Song" from "Are You My Neighbor?"
"Pizza Angel" from "Minnesota Cuke and the Search for Samson's Hairbrush"
"Pants" from "Sweetpea Beauty"
"Monkey" from "The Wonderful Wizard of Ha's"
"Enough to Share" from "Veggies in Space: The Fennel Frontier"
"God is Bigger" from "Where's God When I'm S-Scared?"
"Big Things, Too" from "Dave and the Giant Pickle"
"Happy Tooth Day" from "The Little House that Stood"
"The Lord Has Given" from "Josh and the Big Wall!"
Chapter Selection
Edit
The instrumental for Chapters 1-4 is Pants
The instrumental for Chapters 5-8 is Enough to Share
The instrumental for Chapters 9-10 is Happy Tooth Day
Song Preview
Edit
The song preview that plays in between songs is a bit from Do the Moo Shoo.
Community content is available under
CC-BY-SA
unless otherwise noted.