This article belongs to VeggieFan2000. Please ask him/her/them before editing the article. If you do so without asking, or if the owner(s) say(s) no, you will get a warning. If you continue, you will be blocked.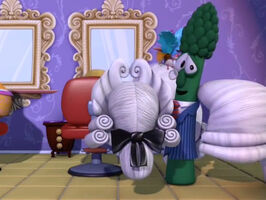 Astonishing Wigs
is an addition to the Sing-Alongs series. It is released the same time as
Call on Us
.
"Astonishing Wigs" from "Princess and the Popstar"
"There Once Was a Man" from "King George and the Ducky"
"The Thankfulness Song" from "Madame Blueberry"
"Happy Ki-Yi Birthday" from "The Ballad of Little Joe"
"Merry Larry's Dream" from "Merry Larry and the Unexpected Twist of the Spring Valley Mall!"
"The Pirates Who Don't Do Anything" from "Very Silly Songs!"
"Schoolhouse Polka" from "Sumo of the Opera"
"Do the Moo Shoo" from "The Ultimate Silly Song Countdown"
"I'm Too Young to Die" from "MacLarry and the Barber-Barians in... Pompous Maximus Strikes Back!
"Amazing Bellbottoms" from "Sheltered and Loved"
Chapter Selections
Edit
The instrumental for Chapters 1-4 is Astonishing Wigs
The instrumental for Chapters 5-8 is Merry Larry's Dream
The instrumental for Chapters 9-10 is Amazing Bellbottoms
Transition
Edit
The transition that plays inbetween songs is a bit from Endangered Love
Community content is available under
CC-BY-SA
unless otherwise noted.