This article belongs to VeggieFan2000. Please ask him/her/them before editing the article. If you do so without asking, or if the owner(s) say(s) no, you will get a warning. If you continue, you will be blocked.
Another installment in the VeggieTales Sing-Alongs series. It was released the same time as The Water Buffalo Song and 
A Mess Down in Egypt
.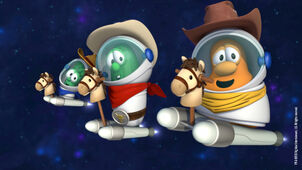 Songs Included
Edit
Asteroid Cowboys from "Veggies in Space: The Fennel Frontier"
Larry's High Silk Hat from "Lyle the Kindly Viking"
Yo Ho Hero from "The Pirates Who Don't Do Anything: A VeggieTales Movie"
Rock On, LarryBoy from "LarryBoy and the Bad Apple"
Pizza Angel from "Minnesota Cuke and the Search for Samson's Hairbrush"
Haman's Song from "Esther... The Girl Who Became Queen"
StuffMart Rap from "Madame Blueberry"
Pants from "Sweetpea Beauty"
The Biscuit of Zazzamarandabo from "Tomato Sawyer and Huckleberry Larry's Big River Rescue"
Hope's Song from "An Easter Carol"
Chapter Selections
Edit
The instrumental for Chapters 1-4 is Asteroid Cowboys
The instrumental for Chapters 5-8 is Haman's Song
The instrumental for Chapters 9-10 is The Biscuit of Zazzamarandabo
Transition
Edit
The transition in between songs is a bit from Kilts and Stilts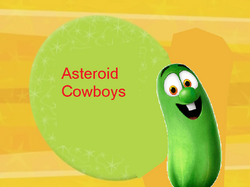 Community content is available under
CC-BY-SA
unless otherwise noted.