This article belongs to VeggieFan2000. Please ask him/her/them before editing the article. If you do so without asking, or if the owner(s) say(s) no, you will get a warning. If you continue, you will be blocked.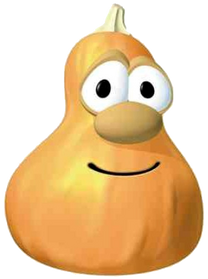 An Ether Carol
is a VeggieTales episode where Ether (Jimmy) has an adventure with all his friends from his latest company picnic. It has a lesson in cleaning up messes you made, just like in
Minnesota Cuke and the Temple of Dough
.
VeggieTales Theme Song, from A Snoodle's Tale, Sumo of the Opera, Duke and the Great Pie War, Minnesota Cuke and the Search for Samson's Hairbrush, Lord of the Beans, Sheerluck Holmes and the Golden Ruler, LarryBoy and the Bad Apple, and Gideon: Tuba Warrior
Cleaning a Mess is the Right Thing to Do
Happy National Meme Day (Silly Songs with Larry)
What We Have Learned
Making Messes are No Fun (Music video, played by Owl City during the credits)
Running Gags
Edit
This somehow serves as a sequel to Trouble from Bedtime Stories.
The silly song is to the tune of Happy Tooth Day ("The Little House that Stood")
This is the third episode in where Owl City writes his third music video from VeggieTales. The first was "Light of Christmas" (co-written by tobyMac) from "Merry Larry and the True Light for Christmas", and "Brave" (co-written by tobyMac and Kellie Pickler) from "MacLarry and the Barber-Barians in... Pompous Maximus Strikes Back!".
This episode has the 2004-2006 VeggieTales theme song, meaning that it started with the 2004 video "A Snoodle's Tale" and ended with the 2006 video "Gideon: Tuba Warrior".
Community content is available under
CC-BY-SA
unless otherwise noted.