This article belongs to VeggieFan2000. Please ask him/her/them before editing the article. If you do so without asking, or if the owner(s) say(s) no, you will get a warning. If you continue, you will be blocked.
America Rules!
is a sing-along DVD, and an addition to the VeggieTales Sing-Alongs DVD collection, following
A Joking Sumo
and
Fear Not, Daniel
. It was released the same time as
Temptation Song
.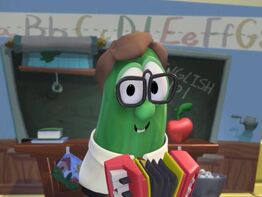 America Rules! from The Little Drummer Boy, Book II
Story of My Life from Merry Larry and the Unexpected Twist of the Spring Valley Mall!
My Teenage Elf from A Chipmunk Christmas
Happy River from Tomato Sawyer and Huckleberry Larry's Big River Rescue
Spanish Gold from The Pirates Who Don't Do Anything: a VeggieTales Movie
Larry's High Silk Hat from Lyle the Kindly Viking
Do the Moo Shoo from The Ultimate Silly Song Countdown
Promised Land from Josh and the Big Wall!
Larry-Boy! from LarryBoy and the Fib from Outer Space!
No Strings Attached from Pistachio
Rock On, Lightyear! from Toy Story 3
Chapter Selection
Edit
The instrumental for Chapters 1-4 is Story of My Life
The instrumental for Chapters 5-8 is Spanish Gold
The instrumental for Chapters 9-12 is No Strings Attached
Song Preview
Edit
The music clip when the song transition scene appears is a bit from Belly of the Whale
Community content is available under
CC-BY-SA
unless otherwise noted.