This article belongs to VeggieFan2000. Please ask him/her/them before editing the article. If you do so without asking, or if the owner(s) say(s) no, you will get a warning. If you continue, you will be blocked.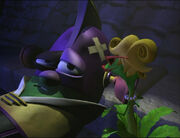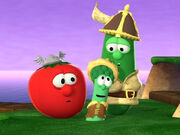 Ambitious Surprises are Really Helpful
is a quintuple feature that contains 5 stories about things that are really ambitious.
Episodes Included
Edit
LarryBoy and the Rumor Weed
Noah's Ark
LarryBoy and the Rumor Weed
Edit
LarryBoy Theme Song
Rumor Weed (sung by the Rumor Weed)
Rumor Weed (sung by the W's in the credits)
Lyle the Kindly Viking 2: Lyle Meets the VeggieTones
Edit
VeggieTales Theme Song, from Veggies in Space, Celery Night Fever, and Beauty and the Beet
The Biscuit of Pizarandabo (Silly Songs with Archibald)
We're Vikings, sung by the Viking company
Show You Love, sung by the VeggieTones and Lyle
What's Up with Lyle?, sung by Olaf
The Elevator Song, sung by the VeggieTones and Lyle
Not So Fast, sung by Sven and Otar
I Can Be Your Friend, sung by Lyle
Look, Olaf!, sung by Sven, Otar, and Mirabelle
Closing Medley, sung by the entire cast
What We Have Learned
Noah's Ark
Edit
VeggieTales Theme Song
Come in Twos
I've Got Plans
Trust Song
Welcome You Aboard
Welcome You Aboard Reprise
My Golden Egg
No More Rain
I Had Plans
Dove Song
God's Got Plans
What We Have Learned
MacLarry and the Barber-Barians in... Pompous Maximus Strikes Back!
Edit
We're Barber-Barians
Chog Norrius
I'm Too Young to Die
Lost Puppies
Drop the Electronic Beat
Pompous's Song
Freak Flag
Big Things, Too
We're Barber-Barians/MacLarry Norrius (reprise)
Brave (performed by Kellie Pickler, Owl City and tobyMac)
Toy Story
Edit
Better Than Friends
Strange Things are Coming My Way
How it Used to Be
Woody's Song
I Couldn't Sail No Longer
The Battle is Not Ours
Buzz Lightyear Theme Song
Community content is available under
CC-BY-SA
unless otherwise noted.