This article belongs to VeggieFan2000. Please ask him/her/them before editing the article. If you do so without asking, or if the owner(s) say(s) no, you will get a warning. If you continue, you will be blocked.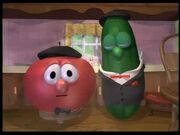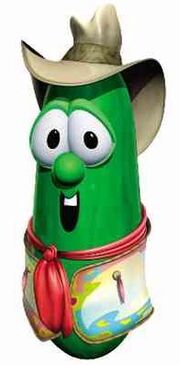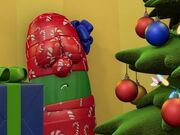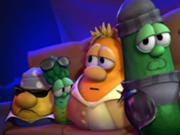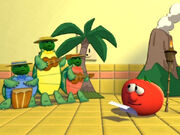 A Very Veggie Devotion to Your Talents (Vol. 2)
is a sequel to
A Very Veggie Devotion to Your Talents (Vol. 1)
, and features stories related to devoting your talents. This features Wilco singing "Just a Kid".
Stories Included
Edit
Silly Songs Included
Edit
His Cheeseburger
Wrapped Myself Up for Christmas
Belly Button
Lance the Turtle
VeggieTales Theme Song
I'm So Blue
Stuff-Mart Suite
Salesmunz Rap
His Cheeseburger
Thankfulness Song
Stuff Stuff, Mart Mart (The Blue Danube)
Wrapped Myself Up for Christmas
When Can I See You Again?
Break-it, Break-it Bob
Sugar Rush
Bug Hunt
Belly Button
Out on the Prairie
Cowboy Life
Show Some Citizenship!
Lance the Turtle
Just a Kid
Larry (Butler Larry, Lay-it Larry, Jr., Benjamin)
Bob (Butler Bob, Break-it Bob, Sheriff Bob)
Petunia (Sergeant Poontoon)
Sara Crewe (VanillaBean So Sweet)
Mr. Lunt (King Lanny/Speedy)
Archibald (Mr. Litwak)
Dad Asparagus
Junior Asparagus
Madame Blueberry (Miss Kitty)
Scooter (McPotiphar)
Annie (Cowgirl Onion)
The Scallions (Stuff-Mart Salesmen, Bandits of the Old West)
Percy Pea (Cowboy)
Mr. Nezzer (Prospector)
Khalil (Jimmy Quarter)
The French Peas (Cowboys, Stuff-Mart Delivery People)
Community content is available under
CC-BY-SA
unless otherwise noted.