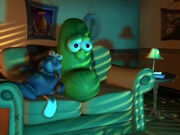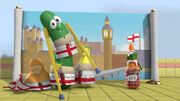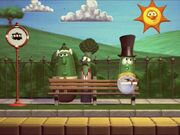 A Very Veggie Devotion to Your Talents (Vol. 1)
is a compilation of stories related to devoting your talents. It includes a music video performance by Aaron Carter, singing his song "
Leave it Up to Me
".
Stories Included
Edit
King George and the Ducky
Silly Songs Included
Edit
Endangered Love
Kilts and Stilts
Larry's High Silk Hat
Astonishing Wigs
VeggieTales Theme Song
I Love My Duck
I Must Have It
Endangered Love
There Once Was a Man
The Selfishness Song
Kilts and Stilts
I Love Being a Superhero!
Larry's High Silk Hat
We're Vikings
With Your Sheep, Your Sheep, Your Sheep!
My Life as A Viking
Patience Awaits You
Better Than Fighting
With Our Sheep, Our Sheep, Our Sheep! (reprise)
Closing Medley
Astonishing Wigs
Leave it Up to Me
Larry (King George, Woody, Taran)
Bob (Louis, Buzz Lightyear, Benson)
Archibald (Slinky Dog, Laurence)
Junior (Thomas, Lyle)
Laura (Sam)
Scooter (Booster)
Petunia (Eliwony)
Khalil (XR)
Percy Pea (Agent Z)
Scallion #1 (Cedric, Commander Nebula)
Ventrilomatic (Alpha-One)
The Fib from Outer Space (Emperor Zurg)
Mr. Nezzer (Warp Darkmatter, Olaf)
Mr. Lunt (Bjorn, Mr. Gourd Head)
Miss Achmetha (Princess Mira)
Various peas, carrots, gourds, and scallions (Villagers)
Baby Moses (green)
The French Peas (Peasants and Vikings, Little Green Men)
Jerry Gourd (Erik, Rex)
Jimmy Gourd (Harald, Hamm)
Pa Grape (Melvin, Lead Monk, Sarge)
Po Ta To (Wheezy)
Pea kids (Monks)
Community content is available under
CC-BY-SA
unless otherwise noted.