This article belongs to VeggieFan2000. Please ask him/her/them before editing the article. If you do so without asking, or if the owner(s) say(s) no, you will get a warning. If you continue, you will be blocked.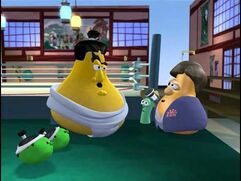 A Joking Sumo
is a sing-along DVD, and an addition to the sing-along DVD series, following
You Know Enough
and
We are the Grapes of Wrath
. It was released the same time as
Fear Not, Daniel
.
"A Joking Sumo" from "Sumo of the Opera"
"La, La, La, La" from "Beauty and the Beet"
"Finish Strong!" from "Where's God When I Need Him?"
"110 Percent" from "It's A Meaningful Life"
"The Worst Barber-Barian" from "MacLarry and the Stinky Cheese Battle"
"That's Not Everything" from "Princess and the Popstar"
"Together" from "Celery Night Fever"
"More Beautiful" from "Sweetpea Beauty"
"What's Up with Lyle?" from "Lyle the Kindly Viking"
"Those Marigold Dunces are Up to No Good!" from "The Great Escape!"
Chapter Selections
Edit
The instrumental for Scenes 1-4 is La, La, La, La
The instrumental for Scenes 5-8 is More Beautiful
The instrumental for Scenes 9-10 is Those Marigold Dunces are Up to No Good!
Transition
Edit
The music clip when the song transition scene appears is a bit from Jolly Joe's
Community content is available under
CC-BY-SA
unless otherwise noted.