This article belongs to Phineasnferb. Please ask him/her/them before editing the article. If you do so without asking, or if the owner(s) say(s) no, you will get a warning. If you continue, you will be blocked.

(July 28, 2013)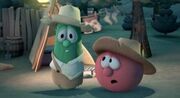 The fifth VeggieTales chapter book. It is longer than the past 4 books with 108 pages. Instead of colored inserts, there are black and white pictures from the episode throughout the book. This time it was published by The Blue Sky Press. It adapts "Tomato Sawyer and Huckleberry Larry's Big River Rescue".
Changes from the episode
Instead of Jerky Land, it's Turkey Jerky Land
The narrator doesn't sing, he just occasionally shows up along the river
The part when the narrator talks about records is added out
There is a mistake in the book, saying Mama Belle is Mama Bella
Additions to the book
Due to the length of the book, there are no additions
Community content is available under
CC-BY-SA
unless otherwise noted.