This article belongs to VeggieFan2000. Please ask him/her/them before editing the article. If you do so without asking, or if the owner(s) say(s) no, you will get a warning. If you continue, you will be blocked.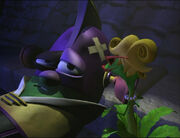 This CD contains songs from 
The Little Drummer Boy, Book II
, 
LarryBoy and the Raiders of the Rumor Weed!
, 
A Chipmunk Christmas
 and 
Toy Story
. Like several CDs, this includes dialog tracks.
VeggieTales Theme Song
Cordial Greetings from Sheriff Woody, Buzz Lightyear, and Friends
The Legendary Silverbells!
The Little Drummer Boy
America Rules!
Roman Abuse
These Romans are a Pain!
Look Whose Here to Help!
Forget about the Rain
The Rumor Weed Song
My New Sharply Dressed Best Friend For Life
Better than Gossips
The Rumor Weed Song (The W's)
Thanks, But No Thanks
The Pirates Who Don't Do Anything
A Little Bit of This
My Teenage Elf
How I Love the Shopping
This is Rather Eerie
What Would Philip Fleagle Think?
To Have a Gift
Next Order of Business...
Better Than Friends
Strange Things are Coming My Way
Woody's Song
I Couldn't Sail No Longer
The Battle is Not Ours
How it Used to Be
Buzz Lightyear Theme Song
Bumblyburg Groove Remix
Superhero Slim-Down
Ta-Ta!
What We Have Learned (Ukulele)
Community content is available under
CC-BY-SA
unless otherwise noted.