This article belongs to VeggieFan2000. Please ask him/her/them before editing the article. If you do so without asking, or if the owner(s) say(s) no, you will get a warning. If you continue, you will be blocked.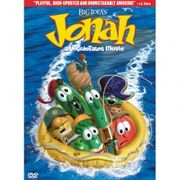 25 Favorite Jonah Songs
is an installment of the 25 Favorites series. It features 25 songs from and inspired by "Jonah: A VeggieTales Movie".
Billy Joe McGuffrey
Bald Bunny
Steak and Shrimp
The Pirates Who Don't Do Anything (Slo Piratz)
Message from the Lord
It Cannot Be
Second Chances (feat. Anointed)
Jonah Was A Prophet
In the Belly of the Whale (feat. Newsboys)
Billy Joe McGuffrey (feat. Chris Rice)
The Pirates Who Don't Do Anything (Relient K)
Opening Titles
The Joppa Market
Jonah Meets the Pirates
The Dream/Cards at Sea
Jonah Meets the Whale
Nineveh
On the Hill
Jonah's Journey
Micah 6:8
Love Overboard
Help Me Listen
Out of the Boat
Share the Love
Credits Song
Community content is available under
CC-BY-SA
unless otherwise noted.