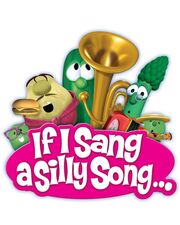 25 Favorite Classical Songs
is another installment in the 25 Favorite series. This CD includes 25 tracks based on shows and what not, from the episodes and the music CDs. This album will be available in stores and on iTunes.
Andrew was a Hero from The Adventures of Iron-Boy: A VeggieTales Movie
This is Rather Eerie from A Chipmunk Christmas
Woody's Song from Toy Story
A Rockstar's Superstardom from Buzz Lightyear of Star Command: The Adventure Begins
Luck Shack from Toy Story 2
Bumblyburg Groove Remix from LarryBoy: The Soundtrack
Superhero Slim Down from LarryBoy: The Soundtrack
Rock Monster from The Pirates Who Don't Do Anything: a VeggieTales Movie
Message from the Lord from Jonah: A VeggieTales Movie
113 Years Ago from An Easter Carol
110 Percent from It's a Meaningful Life
Hero from God Loves a Good Hero
Show Some Respect! from The League of Incredible Vegetables Return!
We Belong Together from Toy Story 3
Together from Celery Night Fever
Silly Song Remix Medley from The Ultimate Silly Song Countdown
With Your Sheep, Your Sheep, Your Sheep! from Taran, The Amiable Viking
Show Some Citizenship! from The Ballad of Benjamin
No Matter How Old from The Cucumber King
Mac and Cheese from Beauty and the Beet
My Golden Egg from Noah's Ark
Pizza Angel from Minnesota Cuke and the Search for Samson's Hairbrush
Sippy Cup from Minnesota Cuke and the Search for Noah's Umbrella
I'm a Gamer, and I'm Proud from Minnesota Cuke and the Temple of Dough
My Ginger Ale from Minnesota Cuke and the Kingdom of the Missing Puppy Doggy
Community content is available under
CC-BY-SA
unless otherwise noted.