This article belongs to VeggieFan2000. Please ask him/her/them before editing the article. If you do so without asking, or if the owner(s) say(s) no, you will get a warning. If you continue, you will be blocked.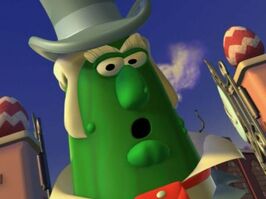 113 Years Ago (reprise)
is a sing-along DVD, and an addition to the Sing-Alongs DVD collection, following
Show Some Respect!
and
Promised Land
. It is released the same time as
Lots of Fun
.
"113 Years Ago (reprise)" from "An Easter Carol"
"The Worst Barber-Barian" from "MacLarry and the Stinky Cheese Battle"
"He's Accepted the Challenge" from "Sumo of the Opera"
"Larry's Blues" from "Duke and the Great Pie War"
"The 8 Polish Foods of Christmas" from "The Little Drummer Boy"/"A Very Veggie Christmas"
"Ouila My Scar" from "VeggieTales:The Story of Madeline"
"No Matter How Old" from "The Cucumber King"
"Mac and Cheese" from "Beauty and the Beet"
"Haman's Song" from "Esther: The Girl Who Became Queen"
"I'm Too Young to Die" from "MacLarry and the Barber-Barians in... Pompous Maximus Strikes Back!"
Bonus: "I Coke You Right Back" from "The Star of Christmas and Hanukkah Doesn't Get a Star"
Chapter Selections
Edit
The instrumental for Chapters 1-4 is 113 Years Ago (Reprise)
The instrumental for Chapters 5-8 is No Matter How Old
The instrumental for Chapters 9-10 is I'm Too Young to Die
Song Preview
Edit
The transition that is in between songs is a bit from Christmas Shines.
Community content is available under
CC-BY-SA
unless otherwise noted.