This article belongs to Phineasnferb. Please ask him/her/them before editing the article. If you do so without asking, or if the owner(s) say(s) no, you will get a warning. If you continue, you will be blocked.

(October 25, 2015)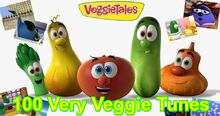 A VeggieTales CD that contains 100 songs from classic VeggieTales videos and other CDs. All songs have sound effects removed. This is technically a sequel to 100 Veggie Classics. It is a 2-disc set. The first disc contains all the songs, the second disc contains their instrumentals.
Songs Included
VeggieTales Theme Song
Superhero Slimdown Remix
God Is Bigger
We're Vikings
I've Got Plans
One In a Million
God's Way
Show You Love
Perfect Puppy
Ease On Down the Road
How Great Is Our God
Hope's Song
Up With Bunnies
Rumor Weed Introduction
I'm So Blue
Keep Walking
Do Lord/I'll Fly Away
Inspicable Me
Beat Up Thingamabob!
The Hairbrush Song
Stand
Oh You Can't Get to Heaven (On Rollerskates)
Promised Land
Candy Cane Blues
Lost Puppies
Do the Moo Shoo
Mewantium
A New Year
The Rumor Weed Song
Trust Song
My Golden Egg
Share of Friends
His Cheeseburger
Larry's High Silk Hat
How to Draw Me
The Ballad of the Pie War
Give Me Oil In My Lamp
The Lord Has Given
Ring Little Bells
The Yodeling Veterinarian of the Alps
While By My Sheep
Come, Now Is The Time to Worship
I'm a Tomato
Veggie Doodle Dandy
Emerald Hunters
Salesmunz Rap
The Forgiveness Song
The Water Buffalo Song
Think of Me
Monkey
Bubble Rap
Cooperation
Dove Song
I've Got Shoes
Love My Lips
I Love My Duck
Love Your Neighbor
BFF (Best Friends Forever)
Right Where I Belong
How It Used To Be
Larry-Boy!
Standing In the Need of Prayer
Jonah's Journey
Enough to Share
God's Got Plans
Kilts and Stilts
We're Barberbarians
Modern Major General
Erie Canal
Happy Tooth Day
VeggieTales in the House Theme Song
VeggieTales on TV Theme Song
Mail Song
It's Laura's Fault/It's Lenny's Fault
The Grapes of Wrath
The Factory (score)
Stop and Go With Mercy
Look Olaf!
God's Little Princess
Good For the Grabbing
The League of Incredible Vegetables
King Darius Suite
Thankfulness Song Medley
The Battle Is Not Ours
Happy Ki-Ya Birthday
The Great I Am
Sneeze If You Need To
110 Percent
The 8 Polish Foods of Christmas
Supper Hero
Feel the Beat
Come In Twos
The Bear Went Over the Mountain
PFFs (Puppy Friends Forever)
Cowbells and Custard
Believe In Myself
Her Turkey Burger
Light of Christmas
Don't Let the Sun Go Down On Your Anger
What We Have Learned
Community content is available under
CC-BY-SA
unless otherwise noted.