This article belongs to Phineasnferb. Please ask him/her/them before editing the article. If you do so without asking, or if the owner(s) say(s) no, you will get a warning. If you continue, you will be blocked.

(December 19, 2015)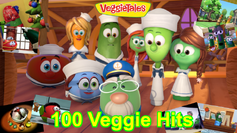 100 Veggie Hits is the third installment in the 100 song series. All songs have sound effects removed. Unlike the previous two CDs, this is a 3-disc set. The first disc is the original songs, the second disc is instrumentals, and the third disc is song commentary.
Songs Included
Edit
VeggieTales Theme Song
Finish Strong!
Think of Me
Emerald Hunters
La, La, La, La
Rock On, LarryBoy
Trouble Is Afoot/Temptation Song
Veggie Doodle Dandy
Jesus Take the Wheel
The Hopperana
Gated Community
He's Got the Whole World In His Hands
VeggieTales in the House Theme Song
Stuff Stuff, Mart Mart
Bubble Rap
Trust Song
The Dinnertime Song
Because I Listened
God Is Bigger
Wrapped Myself Up For Christmas
Some Veggies Went to Sea
Puppy Friends Forever
5 Servings Of You
I Tried To Be Patient
Promised Land
The Sewer/The Town Square
We Vikings
The Green Grass Grew All Around
My Day
Lend a Little Hand
A Mess Down In Egypt
Bumblyburg Groove Remix
I'm So Blue
Oh Where Is My Cellphone?
Mac and Cheese
Ring Little Bells
God's Got Plans
Her Turkey Burger
It Doesn't Matter
The Battle Is Not Ours
I Wonder
Candy Cane Blues
Hope's Song
We've Got Some News
B-I-N-G-O
Give, Give, Give
Carol of the Bells
The Grapes of Wrath
Pants
Party All Night Long
BFFs (Best Friends Forever)
Cooperation
Mail Song
Our God
Sippy Cup
Arise and Shine
Solid Stuff
The Hairbrush Song
Foreign Exchange Veggies
With Great Chocolate, Comes Great Responsibility
The Factory (score)
Ballad of the Pie War
I've Got Shoes
Dove Song
It's Laura's Fault
Salesmunz Rap
The League of Incredible Vegetables
Meant to Be
Peace Like a River
Do Lord/I'll Fly Away
Ease On Down the Road
The Greatest Band Ever!
The Hairbrush Song (Japanese)
Belly Button
Do the Moo Shoo
Vote For Me
I'm a Tomato
Oh Where Is My Tinsel?
God Made You Special
Grumpy Kids
Easter Bunny Hop
Larry-Boy!
Fear Not, Daniel
Come In Twos
Love is the Song
Hero
Off to Martha's Vineyard
Good Morning George
Thankfulness Song Medley
Come Over To My House and Play
Look Olaf!
My Aunt Came Back
Beat Up Thingamabob!
Happy Tooth Day
Love Your Neighbor
Give Me Oil In My Lamp
Keep Walking
The Great I Am
The Candy Song
What We Have Learned (western)
Community content is available under
CC-BY-SA
unless otherwise noted.